A once-in-a lifetime trip learning to share your faith against Christianity's toughest critics.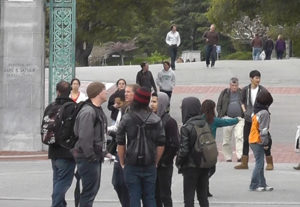 What Is It? The Apologetics Missions Trip is a one-of-a-kind training and evangelism experience that immerses participants in real-life apologetics, theology, and evangelism. This takes place through special pre-trip training classes and then with real-world experiences sharing the gospel with atheists on the mission field at UC Berkeley.
Why Should I Go? 1 Peter 3:15 tells believers to be "ready to give a defense to everyone who asks you a reason for the hope that is in you with gentleness and reverence" (NASB). The Apologetics Missions Trip offers a unique opportunity for you to become equipped to answer the attacks of prominent atheists, your class professor, or even skeptical family members as well as to learning how to engage in real discussions about religion without fighting or abuse.
Who Is This Trip For? This trip is geared for high school and college students, as well as adults and families. It's the ideal missions trip for any believer or family who wants to grow in their faith and desires to share it with others.
Trip Details:
Who:
Up to 35 participants, high school, college, and adults.
Dates:
October 15-19, 2019
Transportation:
By car/van from Fontana to Berkeley
Cost:
$ 350 for five days
(includes gas costs, 8 meals, and basic lodging)
Training:
A 6-hour training session will be provided one Saturday prior to departure.
Instructors:
Apologist Lenny Esposito will provide training and guidance throughout the trip.
Sign Up for More Info:
Yes, I'm interested in the Apologetics Missions Trips. Please send me some additional information.